High Schools
Archdiocese of Washington Catholic high schools prepare students to succeed in college and beyond.
As your child grows into a young adult, a sense of Catholic identity becomes even more important in shaping how they think about the world.
Within the Archdiocese of Washington, 18 Catholic high schools offer an ideal combination of rigorous academics, a deep sense of community and a traditional Catholic educational experience. If you're looking for a faith-based education that lasts a lifetime, built upon a solid moral and spiritual foundation that prepares students for the modern world, you've come to the right place.
Across DC and suburban Maryland, our Catholic high schools offer:
An outstanding education
Direct connection to our Catholic identity
A solid track record of sending students on to successful higher education experiences with millions of dollars in scholarship awards
High graduation rates
Highly respected and varied extra-curricular and sports programs
The Archdiocese of Washington oversees two of the area's Catholic high schools. These schools, Archbishop Carroll High School and Don Bosco Cristo Rey High School, are fully governed and operated by the Archdiocese of Washington.
Your child will be required to take a placement test to be admitted to one of our high schools.
High School Placement Test (HSPT) – used by 12 schools
Various other entrance examinations – used by 6 schools
For more information on the Catholic high schools in the Archdiocese of Washington, visit the ADW Catholic High School Directory.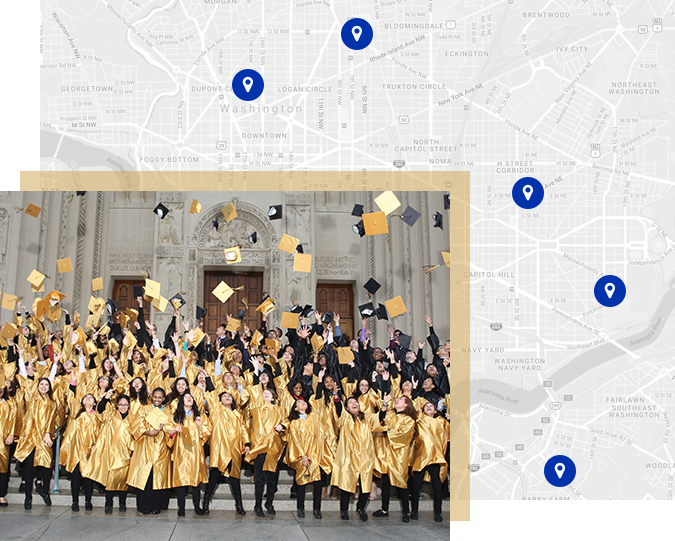 Find the Right High School for You
Our Catholic high schools promote lifelong learning and help your child realize their full potential—transforming their possibilities for the future. Explore the Archdiocese of Washington family of Catholic schools to find the right school for you.